Bayshore Townhomes is an upscale Florida community of 68 town homes located on the eastern side of the Pinellas County peninsula.
For most people in the United States, "Sea Level" is an imaginary plane several hundred feet below the surface of the ground.  For many residents of Bayshore Townhomes, "Sea Level" is just a pleasant drive to work!
FYI: Rick has written a book about Living with the HOA at Bayshore.  

Here's what else you'll find on our website:
Do you Live Here?
Life at Bayshore Townhomes describes what you need to know whether or not you are an owner.
Do You Own a Townhome Here?
Whether you live here or not, you are a member of our  HomeOwners Association if you own a townhouse here. The HOA page will explain your rights and responsibilities.
Would You Like to Live Here?
After read about Life here and the HOA, the units For Sale may be a little out of date, but it's a good place to start.
Bayshore Townhomes are just north of Gulf-to-Bay Boulevard (Hwy 60) and just south of the town of Safety Harbor.  Click on the map below to open Google Maps: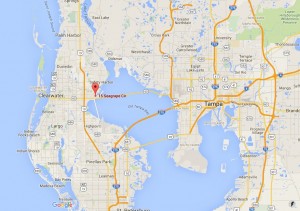 Still Curious?
Finally, the About section introduces Rick, your host here, and the appropriate disclaimers.