Rick Jaggers has written a book about the Bayshore Townhouses' Home Owners' Association (HOA). It's based on his 13+ years as a resident, an owner, former Board member, and former HOA president. The book makes extensive and deep references to the official Association documents, which are included as an appendix.
The chapters in "Living with the HOA" read like a series of letters:
"Dear Reader…"  This first major section contains information that is important to new and prospective owners and residents. Sort of a prequel, if you will.
"Dear Resident/Occupant…" covers the basics of actually living on the property. This applies to occupants whether they are owners or tenants.
"Dear Owner…" This chapter is written for (you guessed it!) the owner of the town home whether the owner occupies it or has rent-paying tenants.
Chapter 3 covers rules, good citizenship, and includes the steps to run for the Board of Directors.
"Dear Board Member…"  Congratulations, you're on the Board of Directors! Now what?
"Dear Officer…" Four out of five Board Members will become an Officer of the HOA Corporation. You'll find my research and my advice here.
"Dear Property Manager…" is intended to highlight what the residents, owners, board members and officers expect.
Appendix

DCCRs
Articles of Incorporation for Bayshore Townhouses of Pinellas Homeowsners Association, Inc.
Bylaws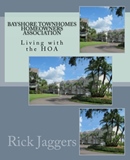 Living with the HOA:
Bayshore Townhomes
Homeowners Association
[ISBN] 978-1539027195

Living with the HOA is available from Amazon.com!
Rick is solely responsible for the contents of the book. Like the website, information presented in "Living with the HOA" is from Rick's experience, public documents, observations, interpretations, and even some speculation by Rick as a resident-owner.
---
Or you can order only The Appendix.
It's a separate book that includes the three founding HOA documents: the DCCRs, the Articles of Incorporation, and the Bylaws. It's a great resource for owners & Realtors to give to prospective buyers (it's half the cost of the HOA book).
The Appendix is also valuable for residents actively engaged with the HOA, and for Directors who want a copy to dog-ear & mark up during Board Meetings. With The Appendix, everyone can literally be on the same page!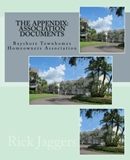 The Appendix:
Association Documents
[ISBN] 978-1537577807

The Appendix is available from Amazon.com!
---
RESIDENT DISCOUNT ENDS
The discount for residents and prospective residents ended in July, 2017. Buyers were able to use a discount code only when buying a book directly from the publisher. Effective August, 2017, we have lowered the price by the amount of the discount. All customers can now buy the book for the same reduced price from Amazon.
---