For Sale ~ September 21, 2017
When I drive through the property, I mostly enter/exit through Oyster Bayou Way, and I pass about half the units on my travels. I rarely see For Sale signs and/or Realtor lock boxes on door handles.
I have alerts set up on my Realtor's portal and Zillow.com ~ an MLS listing popped up today!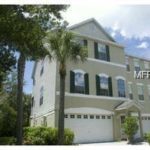 MLS# T2896648 ~ This listing is an 1800 SqFt end unit, one of largest on the property. The side windows provide even more light! The townhome is on Estuary Trail, and the lanai overlooks a conservation area.
---
By all means, work with a Realtor to see Bayshore properties. If you don't yet have a Realtor, then you can contact Tom Scaglione. His contact information is on the previous page (Townhomes For Sale)
PS: You can also copy the MLS number into Google for more information.
If you are considering buying a Bayshore unit, you might want to order my book "Living with the HOA." (look for the Books web page from the menu at the top). The money's not wasted; the book will show you questions to ask for any other townhouse or condominium association you might buy!